The Whitaker Cemetery on Line Creek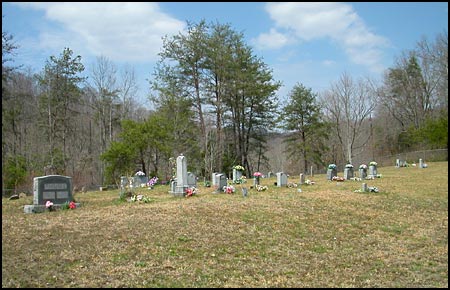 This is the Whitaker Cemetery near the mouth of Line Creek and the Rockcastle River in Pulaski County. The obelisk near the center of the photo is the marker for Henry Mills Whitaker. Following the brief discussion is an inventory of the cemetery made by Marilyn Whitaker Walker.

While most of the marked graves are Whitaker/Arthur-related and date from the early 20th century, there are three very interesting exceptions, both in time and name--Elizabeth, Mary, and Walker Langford, children of Reuben Langford and Sarah Randall.

Not only are there no other Langford-related individuals in the marked graves (as far as I know), but these three are much older, the first dating to 1850, 68 years earlier than the more modern-era ones. To my knowledge, these are the oldest burial markers in the Line Creek area.

Reuben Langford (b. abt 1825) was the son of Stephen Langford (b. abt. 1788). Stephen was the largest landowner in the area on the south side of Line Creek; much of his land ended up with James Cooper. Stephen was the son of Benjamin, who was the son of the Stephen Langford who is credited with founding Mt. Vernon. Walker Langford, who married Mary Warren, may also be a relative. The Warren family originally owned this property, Stephen purchased it from them about 1818.

Stephen died in Laurel County in 1852, about the same time as Reuben's children, and is buried a few miles away in a small cemetery on Lick Creek. There are 16 unmarked graves in this Whitaker Cemetery; some of these may be the final resting places for some of the older members of the Warren family and/or other Langfords. Pure speculation, but isn't it fun? Reuben and Sarah left Line Creek in the late 1860s and moved to the Grundy area of Pulaski County; there is no listing for them in the Pulaski cemetery records.

If anyone has any additional information along these lines or knows who may be buried in some of the unmarked graves, please let us know.


Arthur, Arville 12/26/1928—1/24/1929
Arthur, David Keith 8/13/1954—2/19/1993
Arthur, Ethel 1/28/1911—4/25/1988 s/s Willis
Arthur, George Skip 5/2/1867—12/8/1918
Arthur, Harlin 3/12/1909—9/5/1945
Arthur, James Harlan "Moose" 1945—1994
Arthur, Mary Jane 8/17/1941—5/2/2000 s/s W. Glen
Arthur, W. Glen 3/28/1933 no date s/s Mary Jane
Arthur, Willis 1/25/1904—8/25/1969 s/s Ethel Arthur
Burdine, Essie 12/14/1905—11/27/1978 s/s James E
Burdine, James E 6/201919—7/6/1975 s/s Essie
Decker, Althine 10/14/1930—7/3/1956
Jackson, McKinsie Shae 10/4/1999—10/4/1999
King, Scott William 6/3/1983—8/20/1999
Langford, Elizabeth 11/20/1850—11/30/1850 daughter of Reuben & Sarah
Langford, Mary 1855-1855 daughter of Reuben & Sarah
Langford, Walker P 10/11/1851—1/7/1852 son of Reuben & Sarah
McFadden, Merle Dean 8/23/1932—11/18/1937
Price, Birchel 1921—1993
Price, Dora E 1923—1946
Whitaker, Ada E 9/21/1900—1/28/1990 married to John W. 12/31/1918
Whitaker, Athneil 8/4/1922—6/11/1932
Whitaker, Charlie Ford 7/31/1905—12/24/1934 Whitaker Clementine 1868 1941 wife of H.M Whitaker, George A 1886—1947
Whitaker, George W 1879—1922
Whitaker, James H 3/31/1898—6/6/1967
Whitaker, John W 11/1/1900—12/2/1975 given by son John & wife Betty Whitaker
Whitaker, Leonard C 9/1/1954—1/16/1956
Whitaker, Marvin 6/28/1932—6/26/1934
Whitaker, Mary 10/2/1888—12/1/1942
Whitaker, Nancy H 1882—1927
Whitaker, Thomas May 1841—Feb-1927
Whiteaker, H.M. 7/22/1866—5/10/1922


Cemetery read and recorded 16 Sep 2003, by Marilyn Whitaker Walker, except info on Mary Langford which was contributed by Hazel Holt.